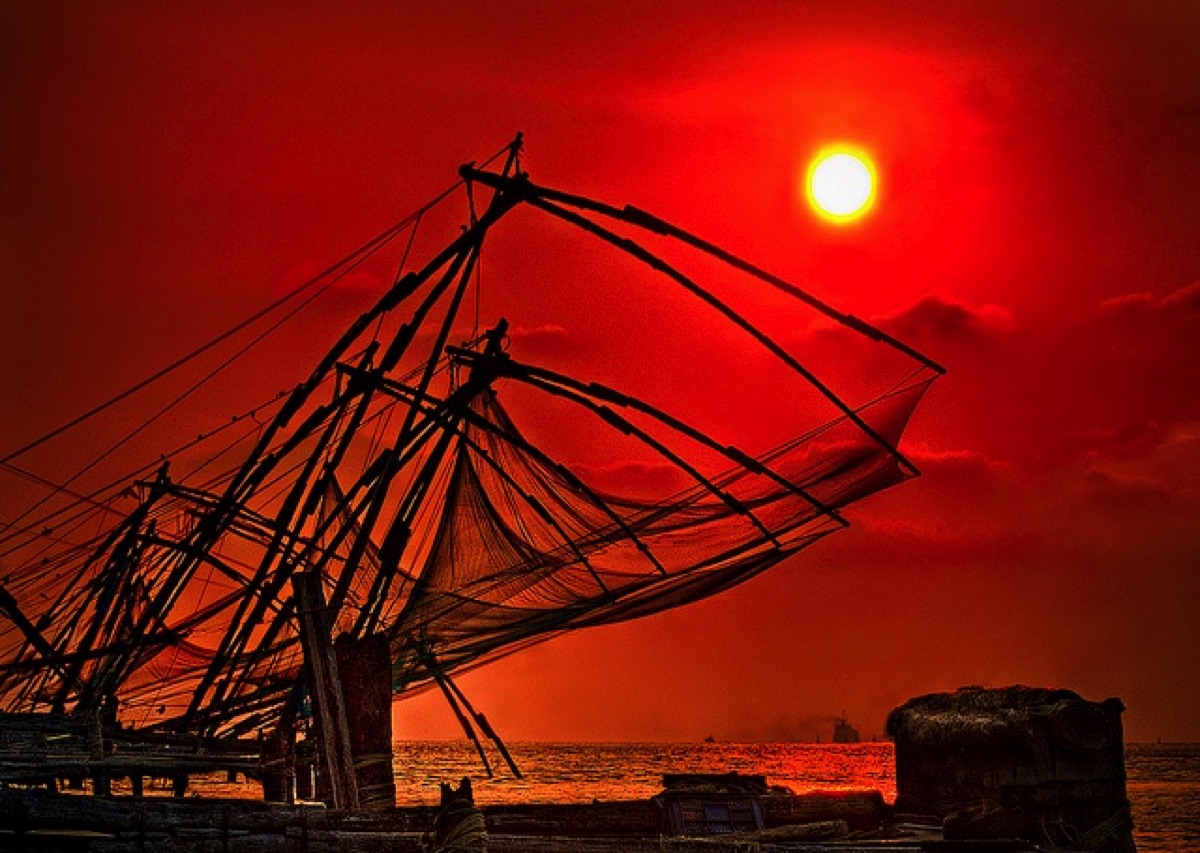 It's no secret that the internet has changed the way consumers shop for local services.
It wasn't long ago that when you needed a local service, you would pull out the phone book and start making calls without really knowing much about the company other than what you saw in their ad. If you were fortunate, a friend or family member had someone they could recommend to you, but you were often flying blind. You simply had to go with your gut and trust the salesperson you were speaking with on the phone.
Today, we're moving further and further into an Age of Transparency. Especially within local markets, consumers are able to conduct extensive research and compare service providers before they call to get a quote or arrange a service call.
In their 2015 Local Consumer Review Survey, BrightLocal found that:
- 60% of consumers search for local businesses on the internet at least 6 times per year,
- 92% of consumers regularly or occasionally read online reviews,
- 68% say that positive reviews make them trust a local business more,
- 80% trust reviews as much as personal recommendations.
Local businesses that take the time and effort necessary to build an online reputation that outpaces their competition have a distinct advantage. They have a steady stream of customers contacting them to do business. They spend little to no money on advertising. And when they really get things going, they can raise prices, turn down low margin jobs, and pick and chose customers and the services they provide.

Learning to Fish the Digital Waters
Attracting customers on the internet is much like fishing. When customers use their pc, tablet, or phone to enter the digital waters, they turn into fish that are, for lack of a better term, magical. They can disappear and reappear at will, be in multiple places at the same time, and they're invisible until you get them on your hook.
To succeed online, you must build a net to automatically catch these fish. You need:
- To identify who your fish are and what they're looking for,
- To put out lines at popular fishing spots,
- Bait to capture their attention and draw them closer,
- Hooks to bring in the catch.
It takes significant effort to build a productive net and we'll be looking at various ways to attract fish over the coming weeks and months. To get you started, the rest of this article will focus on a task that can make or break your net: keyword research.
What are Your Fish Looking For?
Whenever I start a new project, the first thing I do is look at the language surrounding it. If you want to be found in search engines or on local review sites, it's critical to know the terminology your fish use when they're looking for your services.
There are a number of great keyword tools out there that can help you find the keyword phrases that reflect who you are and what you do, but the one I always come back to is Google's Keyword Planner. You'll need to setup a Google Adwords account to use the Keyword Planner, but it's free to use for keyword research. I used the tool for years before I ever paid for an ad.
Step 1: Write Down the Type of Business You Are and the Service You Provide
Every keyword phrase you find that accurately reflects who you are and what you do gives you an additional opportunity to put out additional lines in the digital waters, especially when you find a niche that is underserved in your local market.
For example, if you're a contractor that focuses on installation, your initial list of services might include:
- Landscape Irrigation
- Landscape Installation
- Outdoor Kitchens
- Pavers
- Barbeques
- Water Features
Step 2a: Use the Google Keyword Planner to find keyword phrases. After you've logged in, click on "Search for new keywords using a phrase, website, or category."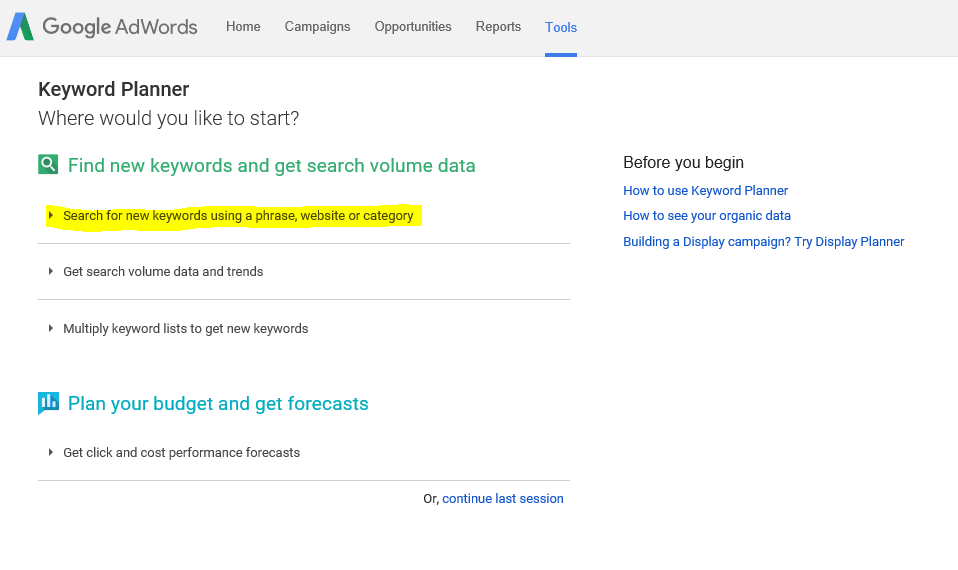 Step 2b. Enter the service you want to research and click the blue "Get Ideas" button. In this case, I searched for "tree removal".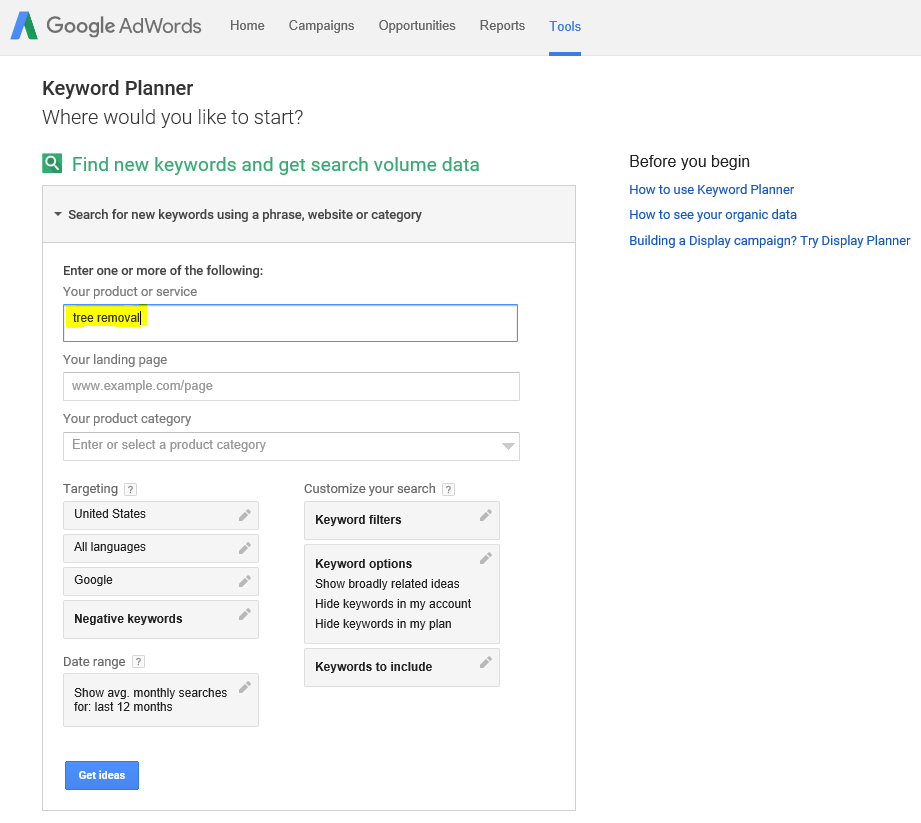 Step 2c. The Google Keyword Planner will provide you "Keyword ideas" on one tab and a list of "Ad group ideas" on another. The ad groups listed on the "Ad group ideas" tab groups similar phrases together, but you'll find keyword phrases in both areas.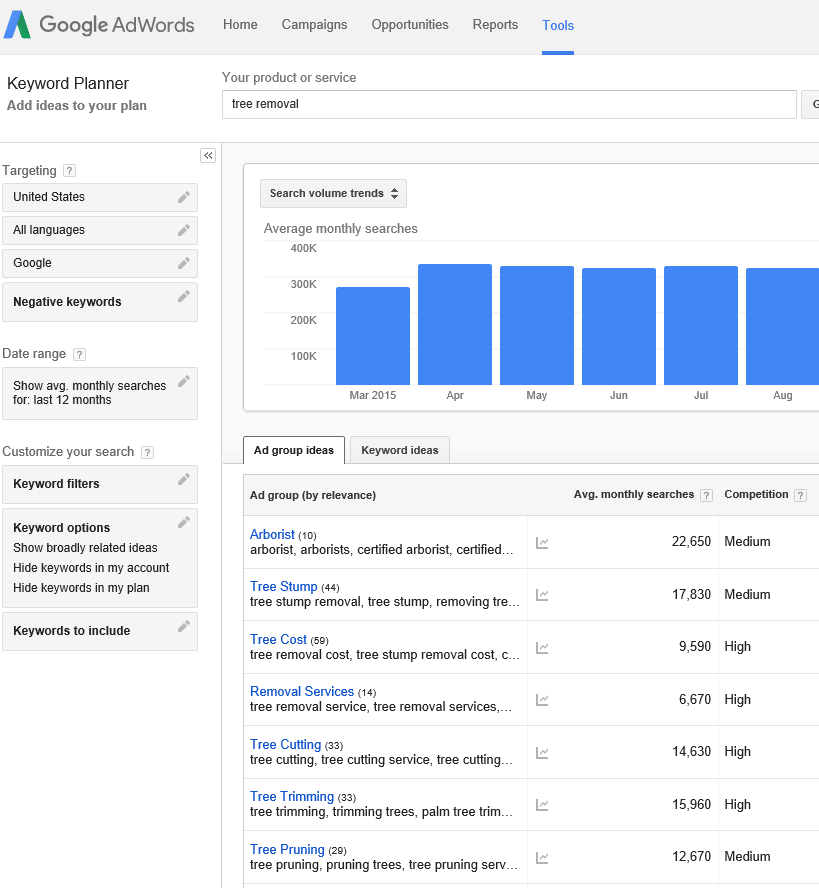 Step 3. Take note of keyword phrases and the number of times they are searched each month.
It may look a little intimidating at first, but keywords are the backbone to any online strategy that involves search engine optimization and getting traffic from referral sites, which are two of the best ways to build your online presence. We'll cover those topics and more in future blog posts.
Image Source: Chinese Fishing Nets by Tim Moffatt