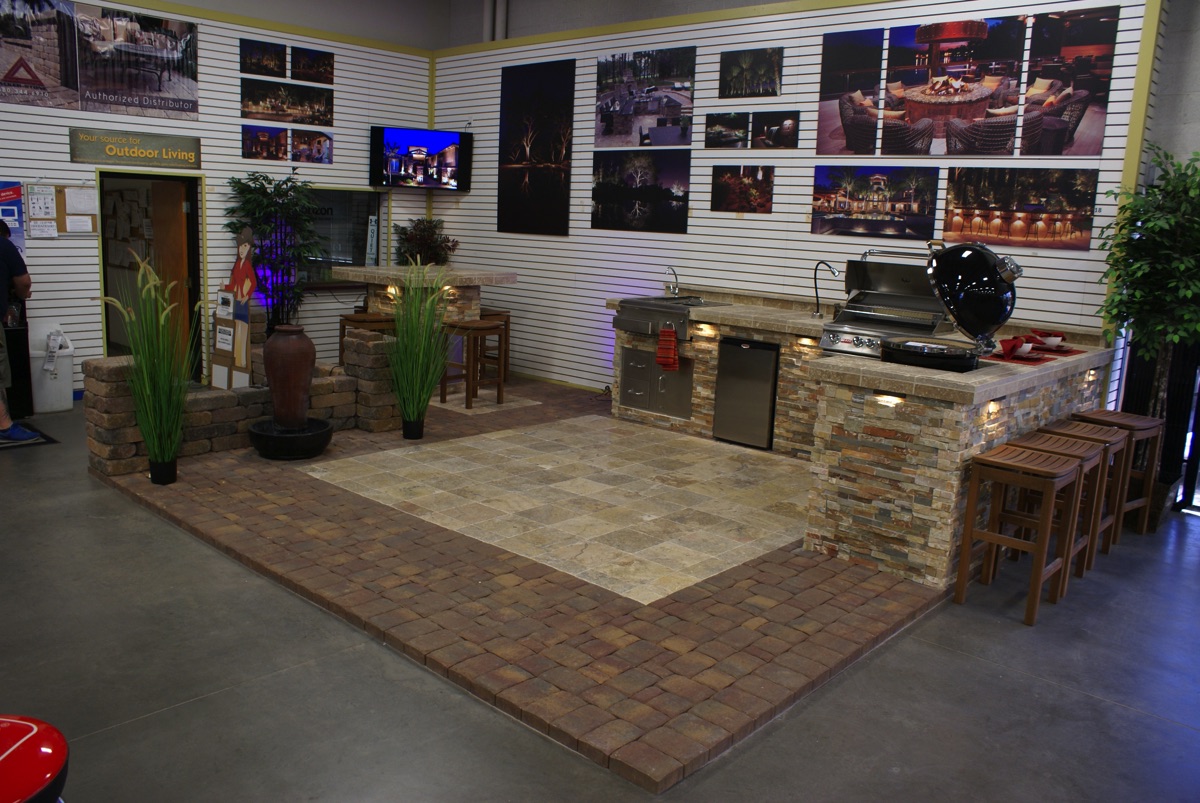 Over the past several months, a team of Horizon employees and manufacturing partners have been hard at work behind the scenes developing a completely new idea in the green industry - Outdoor Living Showrooms.
Featured prominently inside of existing Horizon locations, these showrooms get products out of their boxes and off the shelves so you can get up close and see what these products look like when they're assembled and finished. We want to give you a firsthand example of how a backyard can be transformed when you bring popular outdoor living elements like pavers, fire pits, water features, lighting, and outdoor kitchens together.

A Place to Bring Your Customers
While these showrooms are intended to serve as a point of inspiration for our customers, that's not their only purpose. More importantly, the showrooms provide you a powerful tool that will help you sell your services to current and potential clients.
"Ultimately our showroom gives you a place to bring your clients so they can actually see their new outdoor living area", explains Keith Johnston, National Sales Manager for outdoor living products. "We've re-created a typical design featuring all the standard outdoor living components with the colors and textures common in your region. Basically it's a catalog you can touch and feel."
Before & after pictures, samples, and product catalogs often work great, but for some customers they're not enough. Bring them to a showroom! Have them relax at the fire pit. Let them explore the kitchen. Open the drawers and cabinets. Play with the grill. Get them involved. They may end up wanting to do more with their yard than you expected.

Part of Our Commitment to Help You Grow
Horizon has been selling outdoor living products for several years. With these showrooms, we are reaffirming our commitment to help you grow in this category.
If 2015 didn't go as well as you planned and you're looking to expand your business and make it more profitable in 2016 and beyond, look no further than outdoor living. It offers some of the highest margins in the industry and if you do it right, it can completely transform your business.
There's no question that getting into a new service offering can be intimidating, but you don't have to do it alone. We aren't here to sell you a product and send you on your way. We have the staff and resources to help you every step of the way. We're happy to show you how to install these outdoor living products, but more importantly how to price them and sell with confidence.
Our first showroom opened at our Scottsdale, AZ location earlier this month and we just finished a 2nd showroom in Dallas, TX. We have several other showrooms under construction right now and the goal is to have 8 completed in 2016.
To keep up with the latest openings, follow us on Facebook or Twitter or simply ask your local store or business development representative.