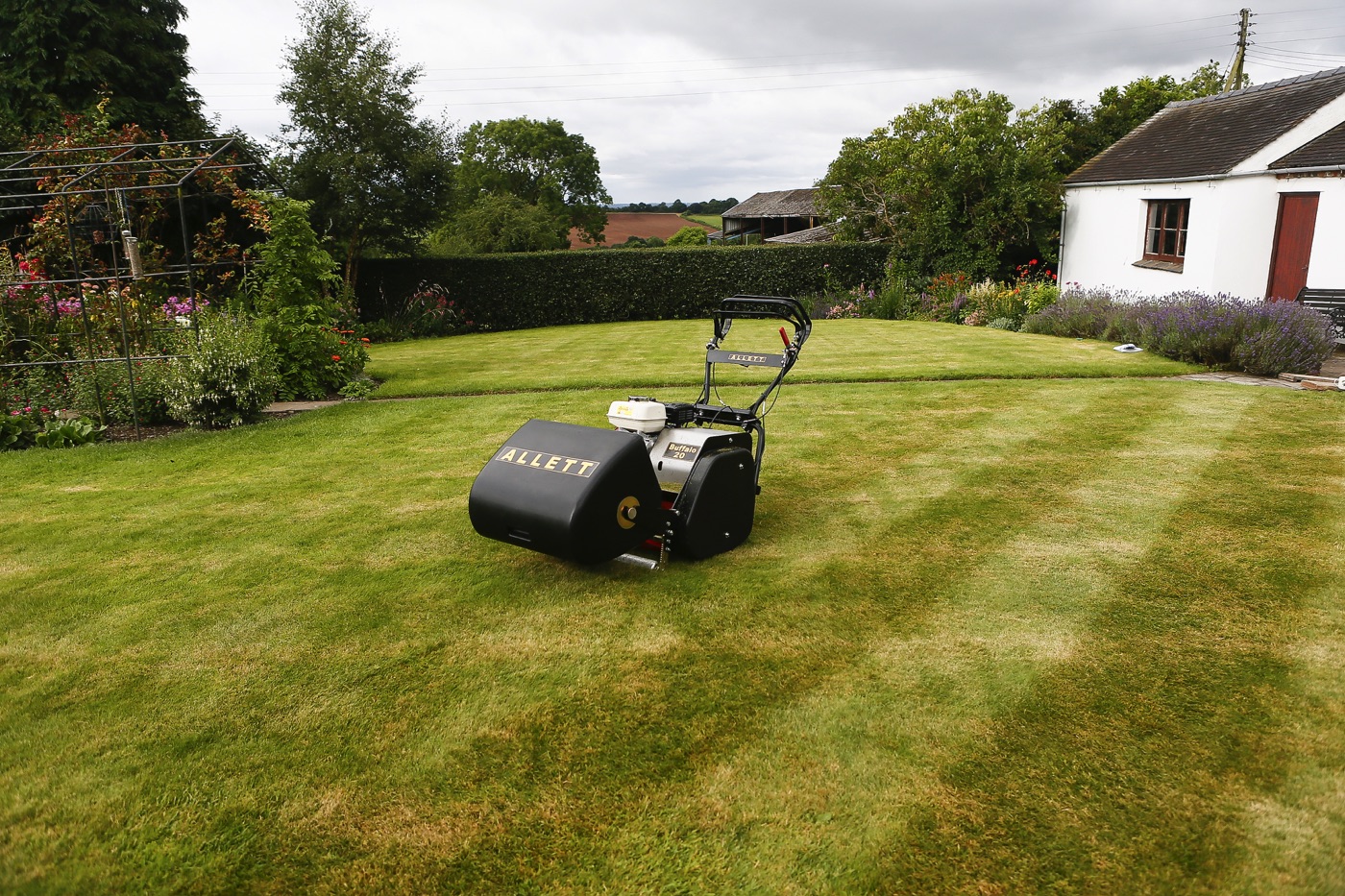 Have you ever watched a Major League Baseball game and marveled at the stripes on the field? I can't help but be in awe every time I see them. Like many of you, I would love to have my own lawn look like that. This year I have been fortunate enough to spend time talking to and working with some of the head groundskeepers at various Major League Baseball facilities. What I learned from them is that it takes a great deal of planning and hard work to keep their fields looking impeccable. Their work window is often late at night after a game has finished or early in the morning before the teams come in for batting practice or that day's game. Surprisingly, the power equipment they use is designed for golf course applications and not specifically for their fields, resulting in more work for their crews and fields that aren't always as healthy as they could be. This is where our newest product line Allett, comes in. Allett is a line of mowers and cartridges manufactured in the UK designed primarily for turf health and safety and secondarily for the beautiful lawn striping so common at major league facilities.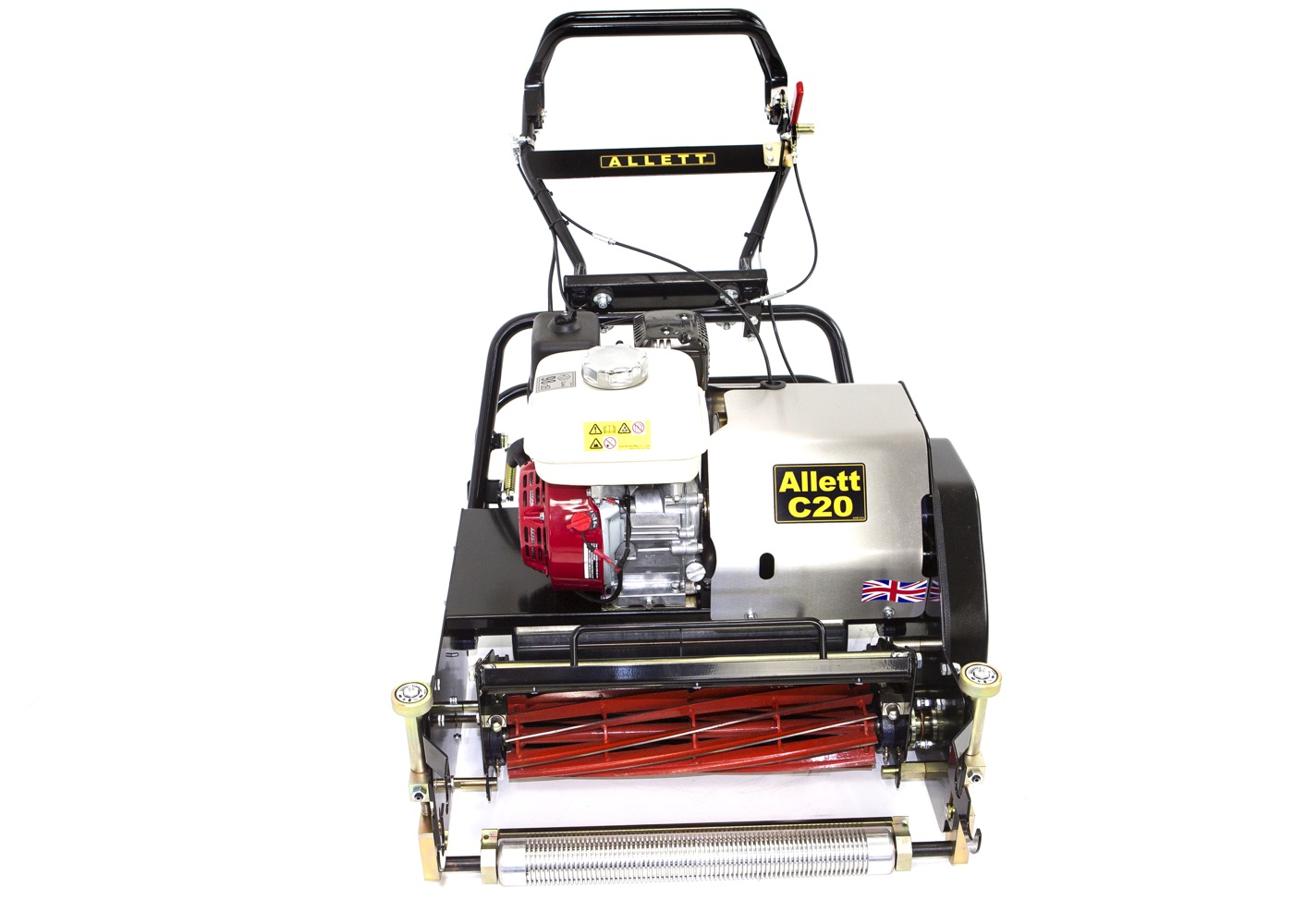 Allett offers both commercial and residential product lines. The Commercial line of mowers revolves primarily around the "C-Series" power platforms. These units, ranging in size from 20" to 34", have interchangeable cartridges so they can become many machines instead of just one. Many of the fertilizers and chemicals that are used in the US today were banned 20 or more years ago in Europe. With that came a need to create a healthy turf using better agronomic practices. From this the Allett cartridge system was born. Strong turf is all about healthy soil, sunlight and the right balance of water and chemistries. An example of how the Allett units help with this can be seen with the Arizona Diamondbacks. On game day, the Diamondbacks can use the spring-tine turf rake cartridge to stand up their turf, removing any dead material and allowing additional air, water and sun to reach the soil, creating deeper root growth. In less than a minute the operator can change out the cartridge to the sorrel roller which pokes holes in the soil allowing water and nutrients to get to the roots. Finally, they change cartridges to the reel so they can put a last mow and striping to the field prior to the game. With most other equipment being used on sports fields, doing all of these tasks on game day is unheard of. In fact, aerating or turf raking would likely only be done at the very beginning of a long road trip so the field would have time to recover. Allett delivers a clear advantage with turf health.
Perhaps just as important as turf health is another advantage of using Allett mowers – player health. Whether you are talking baseball, football, soccer or any sport played on turf the one thing they all have in common is that they have a lot of athletes running fast and turning quickly. These players wear cleats to help their shoes grip the turf, but what happens when there is a heavy layer of thatch that has built up? A (multi-million dollar) player slips and suddenly has torn ligaments. Using the dethatching cartridge significantly reduces this possibility by creating a strong, thatch-free base. Allowing the sun, water and nutrients to reach the soil will encourage the roots to grow down instead of sideways. A visual example of how this helps would be the NFL Week 1 Sunday night Bears-Packers game at Lambeau Field. The Packers started using Allett in 2017 and had such great success with their field that they bought more in 2018. You could see how well the turf in the middle of the field stayed in place throughout the game. Compare that to the Arizona Cardinals (not yet an Allett customer) and their field was torn up between the hash marks. That's the difference between roots growing down and those growing sideways. Same big guys, different agronomic practices. The second advantage to the Allett with respect to safety is the fact that each unit has a heavy roller on the back instead of wheels. The constant rolling of the field helps to create a smoother, safer playing surface.
Our focus with this product line is on the sports turf market and high end commercial properties that demand the striped look and are concerned with using a product that can increase turf health while decreasing water and chemical use. A second market that is surprisingly strong is the consumer market. There is a fairly large group of weekend warriors that strive to have the nicest looking, healthiest lawn on their street. These consumers have been finding us through the Allett webpage and have in many instances purchased these units sight unseen. The consumer models have many of the same cartridges and benefits as the commercial product but are designed for much lighter use.
All Horizon locations are listed on the Allett website (www.allett.co.uk ) so expect to receive some phone calls regarding this product line. Pricing is in Prelude but is also available on the Horizon – Maintenance Channel – Equipment page on the portal. They also have a YouTube channel under the Allett name. Check it out and get excited! If you don't already have the product in your market it will soon be on its way. Best Selling!