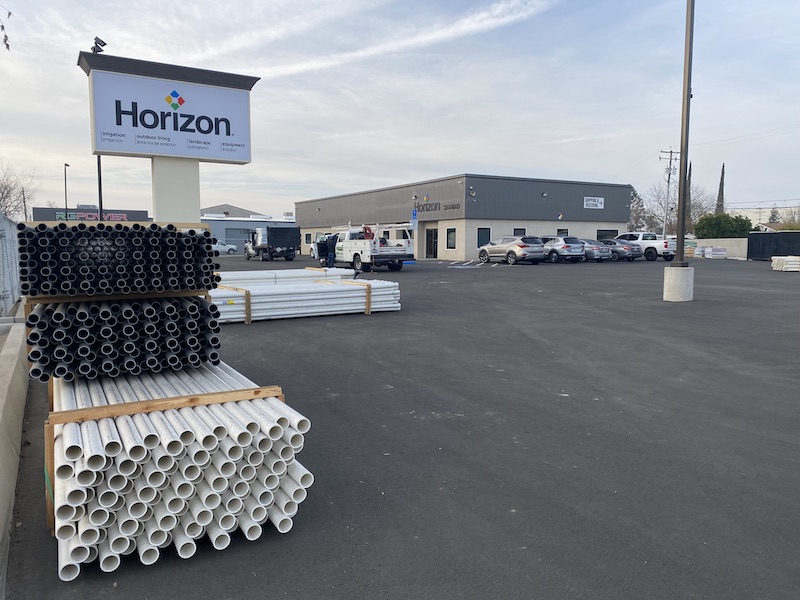 Horizon Distributors Expands on Both Coasts with Three Stores
Plans to increase number of stores throughout 2022
COVINGTON, LA (February 18, 2022) Horizon Distributors, Inc., ("Horizon") a full-service irrigation and landscape maintenance products wholesale distributor, announced three new stores opening Q1 2022. Horizon Clovis in the fast-growing San Joaquin Valley, opened February 1, and marks the 16th store in Northern California. Two additional new stores will open in March in Tampa and Naples, FL, tripling the number Horizon branches in Florida in just over a year.
Horizon Clovis is strategically positioned in the growth area around the Fresno airport, close to both Hwy 180 and 168. Landscape professionals will find a well-stocked selection of landscape and irrigation supplies, as well as a substantial inventory of hardscape and outdoor living products. In West Florida, irrigators familiar with TWC Distributors (Horizon's latest acquisition) will be introduced to Horizon's broad product mix that includes Echo 2-cycle equipment, hardscapes, TurfGro fertilizer, and outdoor lighting products from several major brands.
"This is a very exciting time at Horizon Distributors," said Jeffrey Clay, Horizon President. "We plan on adding new stores across our entire footprint this year. It's aggressive, but we realize that it's through organic growth that we are able to create new opportunities for our entire Horizon team."
Horizon Distributors, Inc., a wholly owned subsidiary of Pool Corporation, is a wholesale distributor of turf irrigation products, outdoor power equipment, fertilizers and allied products serving the professional turf, landscape and golf markets through approximately 80 sales centers in major markets throughout the U.S. Horizon distributes national brands including Rain Bird, Hunter, Toro, Exmark, Echo, PBI Gordon, Vista, Unique and FX Professional Lighting and landscape maintenance products under its proprietary TurfGro® brand. For more information about Horizon, please visit www.horizononline.com.
Pool Corporation is the world's largest wholesale distributor of swimming pool and related backyard products. POOLCORP operates approximately 400 sales centers in North America, Europe and Australia, through which it distributes more than 200,000 national brand and private label products to roughly 120,000 wholesale customers. For more information about POOLCORP, please visit www.poolcorp.com.
This news release may include "forward-looking" statements that involve risk and uncertainties. The forward-looking statements in this release are made pursuant to the safe harbor provisions of the Private Securities Litigation Reform Act of 1995. Actual results may differ materially due to a variety of factors, including impacts on our business from the COVID-19 pandemic, the sensitivity of the swimming pool supply business to weather conditions and other risks detailed in POOLCORP's 2020 Form 10-K, Quarterly Reports on Form 10-Q and other reports and filings with the Securities and Exchange Commission (SEC).
CONTACT:
Mary Martinez, Director Marketing
562.824.8776
[email protected]