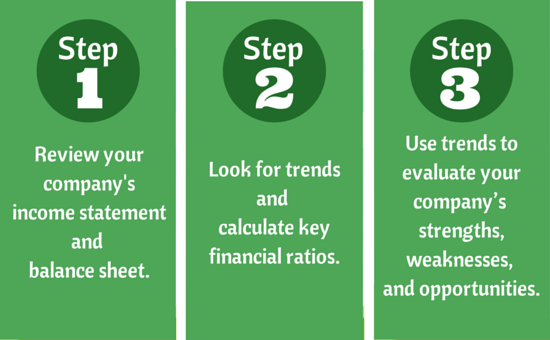 Knowing Your Company … Every Number Tells a Story
Every decision you make - every management move - is captured on your company's financial statements. Looking at and analyzing the numbers and trends on your financial statements regularly is the best way to assess the impact and results of the decisions you make.
Every single number on your financial statements provides tremendous insight into the history of your company and the financial health of your business. They are a window to your company's past and its performance. And while it's important to know the past for history and a sense of nostalgia, it is even more important to know the past and use it as a predictor of the future.
The financial statements of your company are an incredibly powerful tool you can use to chart a course for your company's future. Setting financial goals and monitoring financial performance are critical for any company to succeed. But first, owners and managers must get to know the numbers and the story behind each one.
Analyzing Financial Statements in 3 Steps
The process of analyzing statements does not need to be cumbersome. It doesn't need to be time consuming. And, it doesn't need to be left for the professional accountant, advisor, or banker.
If growing a business that's profitable year after year is important to you, YOU must have a firm understanding of the financial picture and position of your business. After all, it is YOUR business. YOU make the decisions that impact the financial results because YOU are the one that will benefit from sound decisions and suffer from less-solid ones.
Sound financial decisions can be made by following these 3 steps: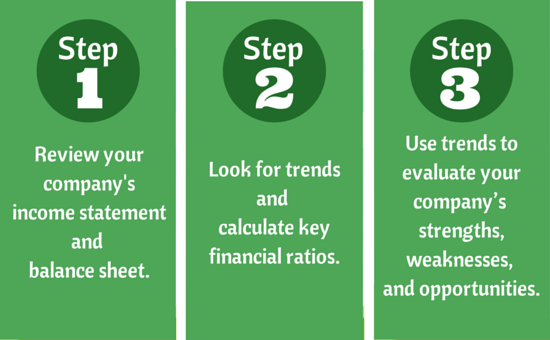 What Financial Statements Show You about Your Business
Financial statements are the report card of your company and can provide incredibly meaningful insight into the questions:
• Where has my company been?
• Where is my company today?
• And most importantly, Where will my company be tomorrow?
Financial statements can provide answers to the following key considerations for success:
• Where does all the cash go?
• Can I afford to grow and expand?
• How are sales moving and what is driving the changes in revenue?
• What is my company's break-even point?
• What is really driving my company's profits?
• Is my return as an owner commensurate with my level of financial risk?
• Does our service deliver the standards our customers expect?
Through a partnership with Horizon and a series of on-line articles, we will be providing answers to these important questions. We will give you tools to help you grow your company, improve your cash flow, and increase your profits. We will provide financial tools for real success.
Remember: Every number tells a story. What's yours?
About the author:
Mike Whitlock, MBA is President of Tannian Consulting, Inc., a recognized leader in financial, marketing, and strategic planning services, training, and consulting. Mike develops and delivers practical financial programs for business owners, managers, and advisors, specializing in financial management and strategic planning.