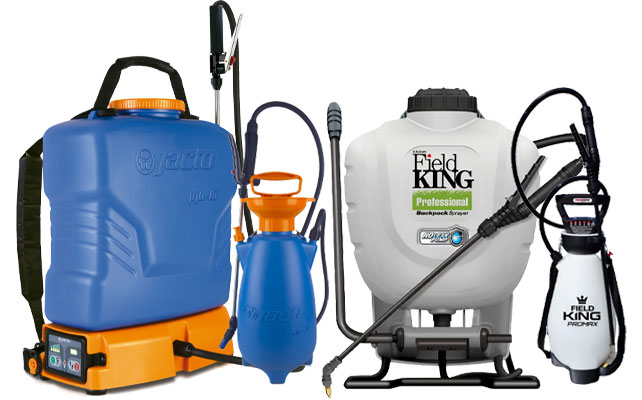 It's spring and time to start your chemical applications. If you are in the market for a new sprayer you may be surprised at the variety of products available these days. How do you choose the right sprayer for your needs? Here are a few things to consider.
Piston Pump vs. Diaphragm Pump
The biggest difference between backpack sprayers is the type of pump. The type of application and the chemical being sprayed should drive your choice.
Piston – A piston pump is the better option when spraying anything at a distance, such as trees and bushes, because of its higher pressure. They are normally a little less expensive and easier to repair. However, they aren't as durable as a diaphragm pump. Piston pumps should not be used with heavier or sticky chemicals and should not be used with a wettable powder. In addition, a piston pump is not completely sealed and can drip on to your skin or clothing ("blue butt"). Piston pumps work best with lighter chemicals, such as herbicides and insecticides.
Diaphragm – Diaphragm pumps don't deliver as much pressure as piston, making them ideal for use in close application scenarios such as weed killing. But the diaphragm pump is more durable to chemical damage. If you are using products such as wettable powders, bleach solutions or other corrosive chemicals this is the best solution.
Manual vs. Battery
A recent innovation in our industry, backpack sprayers now have a battery option available. The main benefit is consistency of application. With a battery unit you are not relying on the operator to maintain a consistent pressure on the trigger. With constant pressure, you are also using the right amount of product each time. It also improves productivity by up to 3x versus manual sprayers. Battery sprayers with an 18-volt battery can run up to 4 hours (50 gallons) and can significantly reduce operator fatigue.
Other Considerations
Make sure the tank you choose has UV to avoid damaging the chemical when left in the elements.
Larger tank size means less time refilling. But make sure it's not too large to ensure comfort during application.
Stream should be steady with a consistent droplet size to ensure uniform coverage on the plant.
Pressure needs to be sufficient to reach all areas of the plant