All TurfGro 2-cycle oils meet or exceed JASO-FD and ISO-L-EGD, which are the highest standards in the industry.
TurfGro 2-Cycle Oil vs. the Competition
Excellent anti-corrosion performance
Amazingly low deposit formations
Superior performance in unleaded gas
Great results in air cooled engines
Incredible anti-seizure protection
Safer for the equipment operator
Remarkably less exhaust port clogging
Meets API air cooled engine oil service classification TC, Fluidity Grade 3
Significantly less piston scuffing
Reduces downtime and increases engine life
Meets JASO spec FD (001HDI001)
Meets Global Oil Specification ISO-L-EGD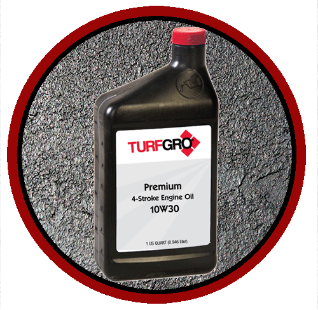 Power Premium Advanced Performance Formula Two Stroke Engine Oil
Semi-synthetic smokeless two cycle engine oil
Specifically blended for chain saws, lawnmowers, line trimmers, blowers, motorcycles and all other air cooled 2-cycle engines
Safe for the environment and equipment operator
Available in 2.6 oz, 6.4 oz, 12.8 oz, 1 gallon, and 5 gallon containers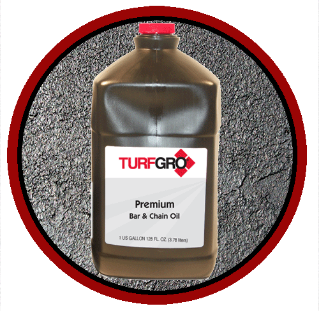 Premium Bar and Chain Oil
Highly refined mineral based oil with outstanding lubrication protection tackiness agent
Anti-foam agents and rust inhibitors to help extend the life of the bar and chain, and its low pour point aids pumpability in cold weather
Manufactured for residential, commercial and industrial chain saws
Available in 1 gallon containers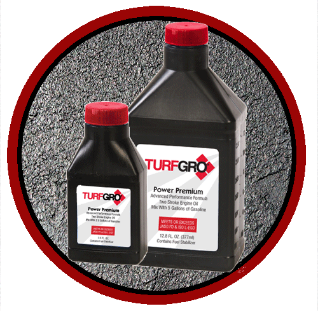 Premium 10W30 Motor Oil
A premium motor oil blended from solvent refined paraffinic base oils and carefully selected additives
Provides superior oxidation and anti-wear protection
Provides bearing corrosion and high and low temperature deposit control.
Can be used in all passenger cars, vans, and light duty trucks and 4 stroke power equipment.
Meets or exceeds requirements for API Service Classifications SJ/CG-4 and API Energy Conserving.
Available in 1 quart containers
Find TurfGro Premium Oil Blends at your local Horizon store.
Find a Store